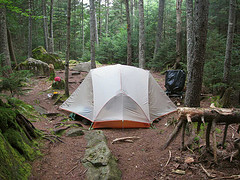 When backpacking, it is crucial to bring a proper tent as this is your protection from weather and bugs. There are several different characteristics of tents that you should keep in mind while choosing a tent. Depending on the length of your trek, the weather conditions and the terrain, different tents will be ideal. You will want to choose the lightest tent possible for the conditions and comfort that you require. For warmer weather, this is much easier as lighter-weight fabrics and poles are sufficient. In cold weather, especially when there is heavy snow or wind, you may need to sacrifice some on weight in order to get the protection that you need.
Here are a few options to choose from for different categories of tents:
For a minimalist adventure: If you are looking for the lightest weight option, and are not concerned about tricky weather conditions, consider a basic tarp or bug netting (tarp only if rain is a possibility).
Choosing a three-season tent: If you plan to hike during the temperate seasons of fall, spring and summer, three-season tents are a good choice. They are relatively light to carry but also offer protection from bugs, wind and rain. They are also good for ventilation, which is nice in warmer, more humid weather. Try out the Kelty Gunnison 3.1 Tent, the North Face Roadrunner 23, or the Black Diamond HiLight.
Picking a four-season tent: If on your backpacking adventure you plan to encounter snow or heavy winds, you will need a four-season tents. These offer protection from all weather, with extra poles to support the tent structure, a rounded shape to prevent snow buildup as well as heavier, less breathable fabric. Some good choices include the Kelty Orb Tent, the North Face VE 25 Tent, or the Black Diamond Bombshelter.
Four-season convertible tents: If you plan to backpack in severe winter weather, but would like to use the same tent year-round, a four-season convertible tent may be a good option for you. These tents can be converted into a three season tent by a simple removal of a pole or roof panel. Keep in mind that even when converted to a three-season tent, these tend to be heavier than the basic three-season tents. Some nice convertible options include the Marmot Swallow, the Sierra Designs Omega, and the Eureka! Timberline Outfitter 6.
Weigh out all of the options, and choose a tent that best suits your needs. Have fun hiking!