Whether in your backyard or deep in the wilderness, there is nothing quite like the feeling of a real fire. Not only does a fire provide warmth, but it also provides light for safety an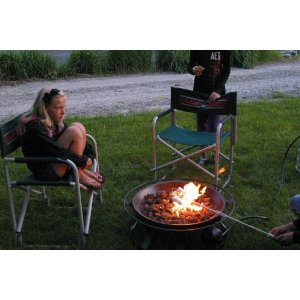 d a means to cook your dinner if desired.
But, if you live in an area that gets particularly dry during certain parts of the year, you are probably aware of what "Fire Bans" and "Fire Restrictions" are, and what they mean for camping and fishing trips.
Typically, these types of restrictions are on what is considered an "open fire", consisting of a solid fuel such as charcoal, wood logs or wood pellets. If you get caught starting an "open fire" during a fire ban, you can face some serious fines and even some brutal lawsuits if the fire gets out of hand and damages someone else's property.
There is some good news, though: In most states, fires fueled by liquid gas are exempt from fire bans and restrictions. Which means that you can usually use propane as a substitute for a wood-fueled fire. As long as the device you are using allows the fire to be extinguished by a valve, most states will permit a device that runs on propane, including but not limited to stoves, grills and other appliances.
These "other appliances" includes gas fire pits, gas fire rings, and gas fire bowls.
There are dozens of companies that produce these ingenious propane-powered devices. Some of these products are not so portable and can weigh over 100 pounds, however, some of them are designed to be portable enough to be carried deep into the bush. In other words, you no longer have to give up the warmth, safety and convenience of a camp fire during these periods of heightened fire danger.
Enjoying a camp fire during a period of fire restriction is only one advantage of a propane-powered camp fire. Other advantages include: easier to start and stop, superior temperature control, no eye-stinging smoke, and no more black soot on your hot dogs and marshmallows.
So, if you would like to enjoy a camp fire in your backyard or somewhere much farther away from home, consider a gas fire pit, gas fire ring or gas fire bowl.
Brad Chapple reviews Gas Fire Pits, Gas Fire Bowls, Gas Fire Tables at http://www.GasFirePits.org. Although his Blue Rhino Fire Pit sees the most use (as he uses it to entertain guest on the deck), Brad also owns the Camp Chef Fire Pit for camping and wilderness excursions.