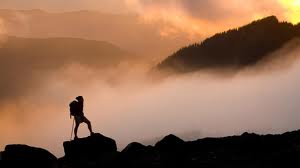 Day hikes are a great way to get some exercise in a beautiful, natural setting. If you're anything like me, a short day hike is preferable to a backpacking trip because you can travel light, and you don't have to sleep on the cold, hard ground. A day hike will get you back to town in time to enjoy dinner in a nice restaurant as your reward for getting outdoors for some invigorating exercise.
Here are the things I consider essential gear for day hikes.
1. First and foremost, a good pair of well-fitting hiking boots is essential if you're planning to do anything more than stroll that flat nature trail to the visitor center. Hiking boots will provide much needed traction and ankle support. Make sure to break in a new pair before you hit the trail or you'll be saying "ouch" a lot. Actually, mountain terrain has a tendency to create blisters even with well-fitting boots, so bandages and moleskin are also essential gear for hiking.
2. Wear several light layers of clothing that can be removed easily if the weather changes. Experts recommend wearing long sleeve shirts and long pants, which can be tucked in to keep ticks from hitching a ride. A hat and sunglasses are also essential gear for day hikes.
3. Water is absolutely essential gear for hiking. A Camelbak water pack is ideal because you can strap it to your back and sip through the tube even while you're huffing up the mountain. You can also buy water bottle holsters that attach to your belt, though these won't hold as much water as a Camelbak will.
4. If the area where you'll be hiking has a trail map, by all means take one along! It's your best insurance against getting lost, and if you get tired and want to find a shorter route down the mountain, you'll know which trail to take. All national parks and many state parks have maps available at the entrance or the visitor center.
5. Portable snacks such as nuts, dried fruit and energy bars are essential gear for day hikes lasting more than an hour or two. The last thing you want to discover at the summit is that all that climbing has made you really hungry, but you have no food. Grrr!
6. Your cell phone might not work in the area where you'll be hiking, but take it along anyway. Also carry a compass, and a GPS unit if you have one.
7. Sunscreen, bug spray and wet wipes are all essential gear for a hiking trip. And if you're going to bring Fido on your hike, please take along some plastic bags for "you know what."
Being prepared will ensure that your hike is a fun experience. This means bringing the essential gear for your day hike, but not carting so much stuff along that you'll wish you were back home watching television. I hope this list will assist you in having a great time on your next hiking trip!