Good weather means road-trips, camping and eating around the campfire. Unfortunately, campers know that sandwiches get old. So do hot dogs, chips and pretty much everything that comes out of a bag; not to mention all sense of nutrition going down the drain. With a little bit of planning beforehand, however, it is easy to eat well, deliciously and nutritionally. Here are 5 tips for eating well while camping.
1. Prepare – While the thought of preparing food for a camping trip might sound a little daunting it is really easy. For about a week before the camping trip you can make extra's to freeze and take with you. Things like chili, soup and meatballs freeze really well, are easy to make double batches of and are great for camp. When frozen, not only do they provide cold to other foods (since they are frozen), they also thaw well and are easy to serve up. Don't forget breakfast foods because pancakes also freeze well and thaw easy on a skillet.
2. Containers – Bring out all those containers that have lids and put them to use for even more prepared foods. Egg or tuna salad sandwiches beat the usual lunch-meat sandwiches and keep perfectly well for a few days as long as they are kept cold. A smart thing to do is to have a cooler that is for frozen foods. This should be the cooler that is rarely opened; therefore, this is not the place for juice boxes that the kids keep getting every 5 minutes. Other container foods could be fruit salad, cut up vegetables and even diced potatoes which can be fried for any meal.
3. Snack Bags – Pre-packaged snack bags, from you not the store, are quick and fun. Pack individual bags of grapes, carrot sticks (for those who rebel against carrots you can add a teaspoon of ranch right into the bag), granola, trail mix with nuts, cereal, mini marshmallows and chocolate chips (even when they melt they are good), almonds and muffins. All of these foods can be easy meals when on the go and camping.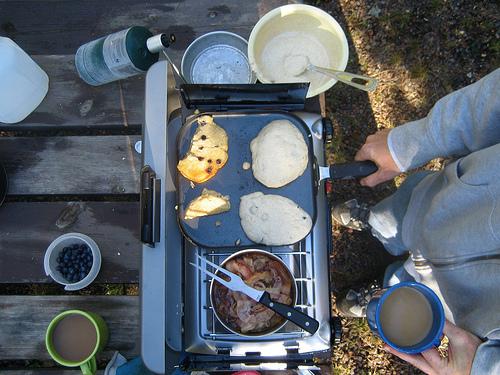 4. Dairy – Don't forget the calcium (dairy or soy). Tubes of yogurt can be frozen and added to the cooler or allowed to thaw in the normal cooler – either way they are great and can provide lots of vitamins. Cheese sticks, pudding and small cartons of milk (white, strawberry or chocolate) are tasty and so convenient they can go on hikes with you.
5. Water – This is something people often forget to pack enough of yet is one of those things our bodies need. Freeze enough bottles of water for everyone in the family and make this the third cooler. The waters will keep each other cold for a long time and no one will get dehydrated.
These are our three tips for eating well while camping. Let us know in the comments if you have additional suggestions.
About the Author
Josh works with OutdoorPros.com which sells everything from camping supplies to apparel.